Cool Slimdown! ~ Presently Offering Lower Price ~



Want To Have Better Shape?
Cool Body Sculpt uses cryolipolysis for freezing fat in selected areas (comparable to Coolsculpting). Cool Body Sculpt is a non-surgical and non-invasive method for body contouring and body sculpting.

Popular for abdomen, love handles/flanks, back, upper arms, thighs and double chins.

Benefits:
🔷
Non-invasive
🔷
Non-surgical
🔷
More than 20-25% of fat may be removed.
🔷
Effective
🔷
No Downtime
🔷
Safe
As Triglyceride in fat can be converted into solid in particular low temperature. Cryolipolysis (cool-sculpting) uses advanced technology to target fat bulges selectively and eliminate fat cells through a gradual process that does not harm the surrounding tissues through the body's normal metabolism process, to eliminate unwanted fat.
Serving: San Jose, Los Gatos, Saratoga, Campbell, Santa Clara, Sunnyvale, Los Altos, Mountain View, Palo Alto and more.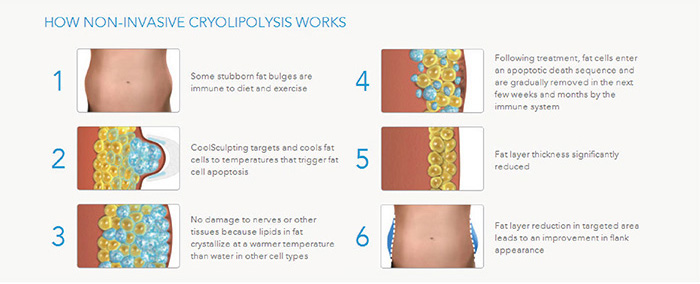 Cryolipolysis (such as cool-scupting) is a newer and non-invasive fat removal procedure. There is no surgery and no anesthesia. There is no hospital stay, no time off from work and no recovery time. In conjunction with HIFU skin tightening/fat reduction treatments, the results can be even better. Technological Breakthrough In Fat Reduction!


COOL BODY SCULPT - Two Cycles
Reduce fat and sculpt your body! More than 20% of fat may be removed.
TWO CYCLES $680 (value $1,860)
TWO CYCLES + EM SCULPT $850 (value $2,860) ~ recommendable ~
ONE CYCLE $450 (value $930)
ONE XXL CYCLE $500 (value $1,150)